DOT/NHTSA Approved

Professional Digital Alcohol

Breath Analyzer

The AlcoHawk™ ABI Professional model is a U.S. DOT/NHTSA approved professional-grade alcohol breath analyzer which utilizes a state-of-the-art semiconductor oxide sensor to test breath alcohol content quickly and accurately. The simple one-button operation provides an accurate digital readout of equivalent blood alcohol content (BAC) in seconds. At just a fraction of the cost of other DOT approved electronic units, this model is one the most widely used professional and personal evidentiary alcohol breath analyzers currently available. The new ABI Professional/AlcoHawk™ version of the original CA-2000 model incorporates newly upgraded internal software and a highly sensitive, efficient microchip to meet rigid DOT accuracy requirements. A compact "Shirt Pocket" unit providing fast, quantitative conversion of breath alcohol content to equivalent percentage blood alcohol content with easy, user friendly visual and audio prompts, large digital display. and totally automated re-calibration and operation
PRINCIPLE
The new AlcoHawk™ ABI Professional model digital breath analyzer incorporates the latest MEMS* technology in gas sensor microchips. This "smart" sensor is highly effective in discriminating oxide electrons specific to alcohol and minimizing the impact of other gas components that may be present in the breath or surrounding air.

*MEMS is the abbreviation for Microelectro-Mechanical Systems, a technology developed at the University of California at Berkley that employs miniscule silicon sensors or "motes" a.k.a. "Smart Dust". Smart Dust, as the name implies, is the equivalent of coating a receptor microchip with micro fine powder consisting of millions of individual smart sensor motes. The use of MEMS, or smart dust, exponentially increases the sensitivity and detection effectiveness of the receptor microchip in identifying and quantifying targeted molecules (hydrocarbons in the case of alcohol breath analyzers).
DOT/NTHSA Approved
Meets US Coast Guard Requirements
CE Mark, NF Mark
ISO Certified
The AlcoHawk™ ABI premium digital alcohol breath analyzer is an accurate, compact, highly sensitive, affordable scientific breath analysis instrument, with automated visual and audio test indicators employing the most advanced integrated gas sensor microchip for rapid determination of breath alcohol content and virtually instantaneous conversion to equivalent blood alcohol content within a range of 0.00% to 0.40% BAC (.08% is considered legally intoxicated in most states, 0.40% is considered fatal). The unit has been tested by the DOT for conformity to their accuracy specifications and added as an approved alcohol detection device to their CPL (Conforming Products List). DOT Documentation. Test results are accurately converted and shown on a large digital display instantaneously after breath sampling. Easy and convenient to use, this ABI Professional Premium model incorporates many user friendly features not generally available at this cost range. Additionally the AlcoHawk™ ABI Professional is ideally suited for zero tolerance alcohol testing programs where even the smallest amount of system alcohol can be detected. Specifications and features of the AlcoHawk™ ABI Professional Premium model follows:
• Range = 0.00% to 0.40% Blood Alcohol Equivalent in 0.001% increments
• Accurate to within (+/-) 0.01% of calculated BAC (.001)
• Large digital display, power warning message, compact case
• Automatic Power on Self Test, Self Calibration, Visual and Audible Progress Indicators
• Mouthpiece Automatically Regulates Breath Sample and is Reusable.
• Test Recycle time <= twenty (20) seconds
• Highly Advanced MEMS Semiconductor Microchip Alcohol Sensor
• Test Results Displayed Instantly After Breath Sampling.
• Smart Power Off Warning Mode
• Power Supply: 9V Battery (Included)
• Approximately Three (3) Continuous Hours Usage Time Between Battery Change
• Weight: 200 grams, 6.4 ounces
• Compact Dimensions: H=12.4 cm (4.9") W=6.0 cm (2.25") Depth=2.4 cm (0.9")
• Cushioned Protective Custom Case, carry strap and 4 extra mouthpieces included
• 1 year Manufacturers Warranty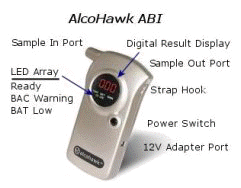 TESTING PROCEDURE:
For optimal accuracy, users are advised to wait at least 15-20 minutes after consuming alcohol and 5 minutes after smoking before testing See Technology and Accuracy. As with all alcohol breath analyzers, the sensitive gas sensor microchip is compromised by the presence of smoke (especially tobacco smoke). Components of tobacco smoke can effect the accuracy of BAC readings by interfering with the sensor's detection of breath alcohol content. Obviously it is also recommended to use the alcohol detector in a smoke free environment. Also, the waiting period after alcohol consumption is necessary for residual alcohol molecules in the mouth and stomach to be absorbed completely into the system preventing the possibility of a high false positive reading. For additional information on technology method and specificity expectation see Technology and Accuracy.
• Place the mouthpiece on the sampling port.
• Because the test procedure is fully automated, the unit is activated by simply pressing the "ON" button and following the visual and audio prompts.
• The AlcoHawk™ ABI Professional will automatically begin a self test and sensor calibration routine. The digital display will show this process with a digital count down from 200 to zero (approximately 20 seconds). A green LED will then flash with an audio beep to signal the unit is ready for sample analysis.
• Blow steadily and continuously into the mouthpiece. The ABI Professional will automatically measure the breath sample and sound a second audio beep signal when sampling is complete.
• In 1 second or less the test result will be displayed digitally in the display panel and a red LED will flash with audible warning signal when test results are .05% BAC or above.
Using the AlcoHawk™ ABI Professional Premium Alcohol Breath Analyzer is an economical and accurate way to avoid the many risks associated with alcohol consumption. These risks are well publicized and can lead to life threatening consequences not only for the intoxicated individual but also for other persons potentially affected by their condition. When used as a monitor, the AlcoHawk™ can indicate when equivalent blood alcohol percentages are below or above state legal limits during any given session, helping to prevent potential arrest or worse, reckless endangerment of others. With the exception of replacement of the batteries and routine cleaning of the mouthpieces, the AlcoHawk™ ABI Professional should provide accurate readings indefinitely as long as the gas sensor is not damaged or compromised by ambient environmental or respiratory smoke. See Technology and Accuracy.

*Deluxe Kit Professional Version with Upgraded Accessories
The AlcoHawk ABI Pro *Deluxe Kit Professional Version includes upgraded accessories not included in the OTC retail version. Each AlcoHawk™ ABI Professional Premium Digital Breath Analyzer comes boxed in a custom hard shell storage/carry case with zippered nylon cover. Included with each unit are a Duracell 9V battery, 12V power adapter, four non-disposable mouthpiece pack, carry strap, and comprehensive user manuals. Available separately are additional mouthpieces sold in packs of four or fifty and additional 12V auto power cord adapters. The AlcoHawk™ ABI Professional is DOT approved for onsite DUI/DWI testing by law enforcement and professional testing facilities nationwide.
Description

Packaging

Sale Unit

Cost

Order

AlcoHawk™ ABI Professional Alcohol Breath Analyzer

Boxed

One (1) Unit

$95.00

Three (3) Units

$275.00

Six (6) Units

$525.00

Twelve (12) Units

$975.00

Twenty Four (24) Units

$1,800.00

AlcoHawk™ ABI Professional Extra Mouthpieces

Poly

4 Each/Pack

$3.50

50 Each/Pack

$25.00

ABI Professional 12V Auto Power Cord Adapter

Each

Each

$5.00

*If the order buttons are absent or inoperable, please use the pricing overview page.
For bulk purchases of Twenty-Five (36) units or more please contact us by e-mail: Customer Service