SAFE DRIVE DELUXE™

Entry Level Personal

Digital

Alcohol Breath Analyzer


An inexpensive, entry level, fast, pocket-sized digital alcohol breathalyzer for use anywhere, anytime alcohol consumption or intoxication is a concern. Virtually instantaneous digital LCD readout of percentage BAC test results. Automatic self-calibration feature. Pocket sized, discreet. Incorporates the latest MEMS* microchip gas sensor technology. Retail boxed with carry strap. Batteries included.
Despite its pocket size, the SAFE DRIVE DELUXE™ Personal Digital Alcohol Breath Analyzer is a excellent entry level digital alcohol detection device employing the latest semiconductor technology to convert breath alcohol content to equivalent blood alcohol content (BAC) in less than a second. Results are displayed digitally on a backlit LCD display panel. The SAFE DRIVE DELUXE™ also employs the recently developed and most advanced *MEMS" gas sensor which is more alcohol sensitive thereby minimizing the possible interference from other environmental factors. Like all alcohol breath analyzers, the sensor microchip is gas specific, meaning that smoke of any kind, especially cigarette smoke, can adversely affect accurate readings. Consequently, smokers should wait at least ten minutes prior to using the SAFE DRIVE DELUXE™. For additional information on technology method and specificity expectation see Technology and Accuracy


*MEMS is the abbreviation for Microelectro-Mechanical Systems, a technology developed at the University of California at Berkley that employs miniscule silicon sensors or "motes" a.k.a "Smart Dust". Smart Dust, as the name implies, is the equivalent of coating a receptor microchip with micro fine powder consisting of millions of individual smart sensor motes. The use of MEMS, or smart dust, exponentially increases the sensitivity and detection effectiveness of the receptor microchip in identifying and quantifying targeted molecules (hydrocarbons in the case of alcohol breath analyzers). This increased sensitivity and accuracy however can be more readily compromised by cigarette smoke or other contaminates in the air. Therefore it is extremely important that MEMS devices be used as free from ambient smoke as possible.
•

I

nstant

3 digit

LCD digital

readout

of test results

% BAC




• Chip recycle time < 30 seconds




• Display Range

.00 to .

15

% BAC.


•

MEMS gas sensor detects alcohol specific chemical structures.


•

Manual and Self Calibration assures accuracy


• Accuracy to +/- .005%

BAC




• High impact plastic housing, Retail Boxed




•

Dimensions :

2

"×1.

4

"×.

3.5

"


•

Weight:

2.8

oz.


•

100 % satisfaction 30 day money back guarantee


•

Two 1.5V AA battery power source (included)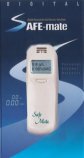 The SAFE DRIVE DELUXE™ is extremely easy to use. The unit is activated through a thumb switch. After a brief internal circuitry self test and calibration routine indicated by a digital countdown on the LCD display, the test subject blows into sensor for a few seconds. Test results are immediately calculated and converted to % BAC and shown in digital format. The unit's microchip automatically recalibrates the gas sensor after each test procedure assuring a high degree of accuracy. As with all electronic breath analyzers, certain precautions should be followed to assure accurate test results see Technology and Accuracy. Complete instructions are included with each unit.
The SAFE DRIVE DELUXE™ Personal Digital Alcohol Breath Analyzer can be used repeatedly and is not disposable. The 3.0V power source is easily replaced using standard AA batteries. Approximately 700-800 tests can be performed prior to battery replacement. While simple and easy to use, the SAFE DRIVE DELUXE™ is highly accurate for personal use situations and can help prevent the unfortunate and often life threatening consequences of alcohol intoxication. Used as a monitor, the SAFE DRIVE DELUXE™ Personal Digital Alcohol Breathalyzer can indicate when equivalent blood alcohol percentages are below or above state legal limits preventing potential arrest or worse, reckless endangerment of others. DUI/DWI State Laws This personal model is recommended for "on the spot" testing whenever alcohol consumption is planned or intoxication is suspected. Use the SAFE DRIVE DELUXE™ Personal Alcohol Breath Analyzer to help prevent the tragic and life altering consequences of alcohol intoxication as witnessed in this recent headline:
Dateline San Diego, CA. May 4, 2001:

ORDERING AND AVAILABILITY
The SAFE DRIVE DELUXE™ Digital Personal Alcohol Breath Analyzer is available for any circumstance or application where a fast indication of alcohol consumption and amount is desired. Blood alcohol percentage equivalents are calculated within seconds and are available quickly and discreetly anywhere, anytime. Each SAFE DRIVE DELUXE™ comes on a four color, retail display blister card with carry strap, instructions and batteries.
Description

Packaging

Sale Unit

Cost

SAFE DRIVE DELUXE™ Personal Digital Breath Analyzer

Retail

One (1) Unit

$39.00

Three (3) Units

$99.00

Six (6) Units

$165.00

Twelve (12) Units

$275.00

Twenty-four (24) Units

$500.00

*If the order buttons are absent or inoperable, please use the pricing overview page to order.
For bulk purchases of Twenty-four (50) units or more please contact us by e-mail Customer Service