GUTH ALCOTECTOR WAT90 Professional Electrochemical Fuel Cell Breathalyzer

Approved by the National Highway Traffic Safety Administration (NHTSA) for use as a Portable Breath Testing System (PBT) for law enforcement and DOT compliance testing programs

The Alcotector Professional evidentiary breathalyzer features the latest technology in high quality electrochemical fuel cells and was designed specifically for law enforcement, department of corrections, government compliance programs, probations and commercial or personal use applications requiring the highest standards in accuracy testing rates. The Alcotector complies with the testing standards for accuracy established by the U.S. Department of Transportation and NHTSA. The Alcotector is the most advanced portable alcohol breath analysis system available in a moderate cost range with sophisticated self contained computer digital electronics and precision fuel cell accuracy.
INTENDED USE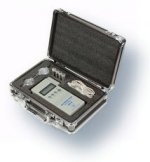 Click to Enlarge
DOT/NHTSA Approved
Meets US Coast Guard Requirements
Electrochemical Fuel Cell Breathalyzer
Long-life accuracy
Automatic actuated
electric pump system
Real-time clock
Self Diagnosis
The Alcotector Professional was developed and manufactured to provide reliable, fast and highly accurate alcohol breath analysis in a compact, portable and user friendly electronic device. Constructed from the highest quality components available, the Alcotector is intended for heavy commercial and law enforcement use without compromising sensitivity and accuracy. The LCD digital display utilizes simple visual prompts to show internal self diagnostics and recalibration, test progress and test results. The unit's electronic sensor automatically calculates the correct breath sample amount required and will report a test error for under blows thus eliminating test subject sample manipulation. Additionally, The Alcotector professional model includes 4 specially designed non-disposable one-way mouthpieces that prevent subject manipulation of breath sampling by "blow back" and insuring proper breath sampling. Key on chip functions include self diagnostic checks for calibration and accuracy, automatic recalibration, automatic zero resetting, sample volume to alcohol content logarithm and real time clock self adjustment. The Alcotector is furnished with an aluminum and steel reinforced heavy duty briefcase intended for law enforcement field use and any other application, including personal use, requiring rapid and evidentiary accurate alcohol breath analysis.
SPECIFICATIONS
Featuring the highly accurate and proven electrochemical fuel cell manufactured by GUTH Laboratories, recognized as a world leader in alcohol test systems, the Alcotector is simple to use with most test operations completely automated. The Alcotector Professional is the model of choice for anyone serious about alcohol use, abuse, detection and prevention. Highly sensitive, the unit can display with a detection range of .000 to .400 % BAC and field accuracy rate of ± .003 BAC of the control alcohol solution used in BAC calibration. The Alcotector exceeds the testing standards for accuracy established by the U.S. Department of Transportation and other regulating authorities. The Alcotector Professional model is also ideally suited for zero tolerance alcohol testing programs where even the smallest amount of system alcohol can be detected. Key specifications and features of the Alcotector Professional model are as follows:
| | | | |
| --- | --- | --- | --- |
| Sensor | Guth Laboratories Electrochemical Fuel Cell | Display | Illuminated LCD display digital 0.000 2" x .67" |
| Accuracy | ± .003 BAC to wet simulator control solution | Calibration | Self zeroing |
| Analysis Time | Approximately 20 seconds | Re-Calibration | Wet Simulator Periodic, Dependent on use |
| Recovery Time | 45-60 seconds between positive tests | Mouthpiece | Non disposable Guth Ultra-trap Mouthpiece |
| Sampling System | Automatically actuated and measured system | Power Internal | 4-AA Heavy Duty Alkaline batteries |
| Units of Measure | User selectable in gm%, mg/ml, mg/L | Power Adapter | 12 volt car adapter included |
| Calculation logarithm | % BAC standard | Weight | 11.6 Ounces with batteries installed |
| Operating Temperature | 0°C - 40°C (32°F - 104°F) | Dimensions | 6.5" x 3" x 1.4" |
| Self Diagnostics | Self-check when power is turned on | Warranty | 1 year factory warranty |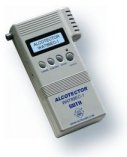 Operation is fast, with an instant response to negative and positive tests, and a maximum 45 second recovery time. Microprocessor monitoring of breath flow, unique one-way flow mouthpiece design, and an alcohol specific electrochemical fuel cell combine to automatically assure the accuracy of alcohol breath testing and analysis. One button operation, auto calibration, shirt-pocket size, and a host of exclusive convenience features make the Alcotector Professional model stand alone in field sobriety testing and analysis. The large graphic LCD display and high powered internal software give the operator visual and audible prompts and error messages minimizing operator error and simplifying the test procedure. This evidentiary quality breath analyzer is recommended for "on the spot" testing whenever alcohol consumption is planned or intoxication is suspected. The Alcotector should provide accurate readings indefinitely as long as the microprocessor and electrochemical fuel cell are not internally damaged. For additional information on technology method and specificity expectation see Technology and Accuracy.
QUALITY
The Alcotector housing is constructed of commercial grade, high impact ABS polymers with a scratch resistant high density crystal acrylic display providing superior protection to the internal microprocessor and computer circuitry. Each unit comes in an aluminum and steel reinforced heavy duty briefcase for mobile and field use. Electronics are shock resistant and solid state. Mouthpieces are specially designed to provide one-way breath flow only thereby eliminating test subject sample manipulation by suck back or under flow. Given simple routine maintenance, the unit should provide unlimited service in a commercial use environment.
Each Alcotector professional unit comes in an aluminum and steel reinforced heavy duty briefcase, 4 AA Alkaline battery pack, 12 volt auto adapter, operation and calibration manual, and four (4) one-way, ultra-trap mouthpieces. Mouthpieces are high grade abs plastic and non disposable and they can be re-used if washed in hot water between uses in personal use or lower volume testing applications. Additionally, the Alcotector unit must be used only with its specially designed mouthpiece or damage to the fuel cell sensor could occur along with inaccurate test results. Failure to use Alcotector mouthpieces in operation of the unit may void the manufacturers warranty.
Description

Packaging

Sale Unit

Cost

Alcotector Pro Evidentiary Breathalyzer

Aluminum Briefcase

One (1) Unit

$449.00

Three (3) Units

$1,230.00

Alcotector Pro Mouthpiece Only

Poly Bag

Ten (10) Each Pack

$7.00

Fifty (50) Each Pack

$25.00

*If the order buttons are absent or inoperable, please use the pricing overview page to order.
For purchases of Five (5) units or more please contact us by e-mail Customer Service
*Note: The Alcotector cannot be shipped to a PO Box address