FSH (Follicle Stimulating Hormone)

One-step Threshold Level Menopause test (Urine MidStream Test)

A forensic qualitative test for the rapid determination of system concentrations = > 25 mIU/ml FSH (Human Follicle Stimulating Hormone). FSH is the hormone that initiates the human female reproduction and ovulation sequence. Persistent high FSH levels above 25 mIU/ml during the female cycle can generally indicate the onset of menopause or other interfering condition in the interruption or disruption of normal female ovulation.
INTENDED USE
The FSH Menopause MidStream Test is a one-step immunochromatographic assay for the qualitative determination of human follicle stimulating hormone in system concentration levels of 25 mIU/ml or greater in human urine. The FSH Menopause MidStream Test utilizes a unique combination of monoclonal and polyclonal antibodies to selectively identify FSH hormone with a high degree of sensitivity and accuracy. Controlled laboratory studies result in a 96% accuracy rate in detecting FSH at levels of 25 mIU/ml (+) when the test is used according to instructions.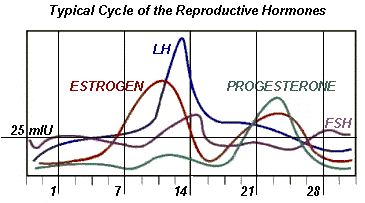 SUMMARY AND EXPLANATION

During the normal female reproductive cycle, two primary hormones, LH and FSH are released from the pituitary gland to prepare the ovaries for ovulation. FSH in particular is responsible for the stimulation and swelling of the egg follicles in one or both of the ovaries. FSH and LH in turn prompt the body to produce elevated levels of estrogen and progesterone preparing the lining uterus to accept the fertilized ovum. Once ovulation has occurred the production of FSH and LH ceases and detectable levels drop off significantly until the reproductive cycle begins again.



If FSH levels remain elevated at 25 mIU/ml or greater during the entire cycle, then this is evidence that the pituitary gland is continuing to produce FSH because there has been an interruption or failure in normal egg follicle stimulation; ie: the system has failed to receive a successful ovulation "message". Therefore fertility has not occurred.

Assuming a healthy pituitary gland, the usual reasons for constant elevated FSH levels throughout the cycle are related to menopause or the gradual shutdown (failure) of the ovaries. Consequently, a positive test for elevated FSH (except at mid-cycle) is a clue to the onset of menopause or some other medical condition adversely effecting normal ovarian function.

Note: A positive qualitative test for elevated levels of FSH does not, under any circumstance, confirm or deny a diagnosis of menopause or ovarian failure. Further tests and consultation with a healthcare professional are required.
MATERIALS PROVIDED
MATERIALS REQUIRED BUT NOT PROVIDED

• FSH Menopause MidStream Test individually and hermetically sealed in foil pouch with desiccant and stamped with lot# and expiration date.


• Complete test instructions

• Clock or suitable timing device
WHEN TO TEST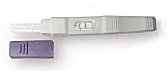 The FSH Menopause Midstream test can be performed at any time except mid cycle (8-15 days after menstruation bleeding ceases). FSH levels should normally be below 25 mIU/ml (negative test) except at mid cycle. Positive test results at times other than mid cycle should be discussed with a healthcare professional for reasons stated above.
DIRECTIONS FOR USE
The test may be performed in two ways; By placing the wick end of the device directly in a urine stream or by immersing the wick in a urine sample collection container.
Allow specimen the FSH test device to reach room temperature (20° to 30°C) prior to testing.

Note the expiration date on the package and remove the MidStream test from the sealed foil pouch. Do not open the pouch until just prior to testing.

Remove the protective cap and either place the wick end directly in a urine stream or immerse the wick in the collection cup for at least six seconds

Replace the cap and lay the MidStream on a flat surface with the test panel facing up.

Observe lateral flow or sample migration across the test panel of the MidStream test device. If migration does not begin, return the test wick to a urine stream or the collection container.

Wait ten minutes for the test results to completely develop. Read results for the test at exactly 10 minutes. Do not interpret results after 10 minutes.

INTERPRETATION OF TEST RESULTS:
| | | |
| --- | --- | --- |
| | | |
| Positive | Negative | Invalid |
| Two pink-rose bands appear in the test result window with the test band color and intensity equal to, or darker than the control band. A positive test result indicates FSH hormone levels at or above 25 mIU/ml. | One pink-rose control band appears and no test band appears. Or the control band appears and a test band appears which is faint or lighter in intensity and color than the control band. A negative result indicates FSH hormone levels below 25 mIU/ml. | If there are no pink-rose bands at all, or only a test band appears with no control band, then the test is invalid. Proper test procedures may not have been followed or contamination / deterioration of the test may have occurred. Repeat the test using a new FSH test MidStream. |
Note: As with all test results requiring a color intensity comparison, it is often helpful to obtain another person's opinion.
AVAILABILITY AND ORDERING
For women seeking pregnancy and/or concerned about ovarian health, function and fertility, the FSH Menopause MidStream test can provide useful information in this regard. The FSH Menopause test is available in packs of 6, 12, a Physician pack of 50, and a Clinical pack of 100 tests. All tests are individually foil sealed and come with complete test instructions.
Description

Packaging
Quantity
Cost

FSH Menopause Hormone Test

Individual/Sealed

Six (6) Tests

$29.90

Twelve(12) Tests

$49.90

Physicians Pack

Fifty(50) Tests

$150.00

Clinical Pack

One Hundred (100) Tests

$200.00

*If the order buttons are absent or inoperable, please use the pricing overview page to order.