BioSafe® Anemia Meter Home Anemia Rapid Hemoglobin Test

Simple to Use, Rapid single use test device for Anemia

Product Discontinued...No longer Available

A self administered, FDA approved, quantitative rapid diagnostic test performed at home for determining the total amount of hemoglobin (Hb) in whole blood. Low hemoglobin counts in red blood cells is the primary marker for determining Anemia. Eliminates the inconvenience and high expense of arterial blood draws and laboratory analysis recommended for the determination of Anemia. Anemia, if not treated, can become a very serious condition, even leading to life-threatening complications. The Anemia Meter is simple to use, with accurate results obtained in 20 minutes. Ideal for use as a preliminary diagnostic screening test for Anemia as part of an overall heath management program.
BACKGROUND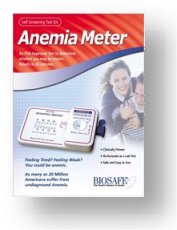 Three types of cells make up the blood in the human body, they are red blood cells, white blood cells, and platelets. Red blood cells contain hemoglobin (Hb, which carries oxygen from the lungs to every cell in the body. Oxygen provides the energy needed by all the body's muscles and organs. Anemia occurs when the number of red blood cells (or the Hb in them) drops below normal levels and can no longer supply the body with the oxygen it needs to function properly. Anemia, if not treated, can become a very serious condition, even leading to life-threatening complications. When the number of red blood cells in the body decreases, the heart works harder, pumping more blood to send more oxygen throughout the body. If the heart works too hard, it can develop a rapid heartbeat (tachycardia), and/or another serious condition known as left ventricular hypertrophy (LVH). LVH is an enlargement of the heart muscle that in turn can lead to heart failure.

What causes anemia? Anemia will occur if the body produces too few red blood cells, loses too many of them, or if red blood cells are destroyed faster than they can be replaced. There are nearly 100 different types of anemia with many causes. The more common causes are: a vitamin or iron deficiency, serious disease, significant blood loss, side effects of prescriptions drugs and genetic or acquired defects or disease.
INTENDED USE:
The BioSafe® Anemia Meter is an FDA approved, hand-held, rapid response blood testing device that accurately checks for blood hemoglobin levels. The test provides you with an accurate, quantitative, convenient, and inexpensive way to test for possible anemia in the comfort and safety of your home without costly physician visits and laboratory fees. Low hemoglobin levels are associated with extreme weakness, fatigue, shortness of breath, dizziness, depression, rapid heart beat, and/or pale skin. People over 65, those who have had recent surgery, and HIV/AIDS patients are at increased risk. Additionally, people who have kidney disease, diabetes, rheumatoid arthritis, cancer, or heart disease should check their hemoglobin level regularly.

The specimen collection process is quick, easy and virtually painless. Using the spring activated, special lancet (included with the Anemia Meter), one or more drops of blood are taken from a nick of a finger and deposited into the Anemia Meter. A view window indicates when the right amount of blood has been deposited, and a plunger is then pushed to start the testing process. The unit is then set aside. At the end of twenty minutes the window on the meter will give a numerical, quantitative result for total Hemoglobin Hb in g/dl. Expected normal and abnormal result ranges are discussed in detail in the comprehensive user guide and manual. If the result indicates probable anemia, the Anemia Meter can be placed in the provided plastic envelope and shown to a health care provider for further diagnosis.
TEST PROCEDURE
Deposit blood in the sample well of the test device

Activate the Anemia Meter by depressing the plunger

Read test results after 20 minutes
The BioSafe® Anemia Meter test is very easy to perform in the privacy, confidentiality and convenience of the home. There are three (3) basic steps: A blood sample is obtained through a simple finger prick using the virtually painless, spring loaded lancet provided and then deposited into the sample well of the test device, the test device is then activated by depressing the plunger on the side of the Anemia meter, and results are obtained at 20 minutes by reading the lateral scale on the test device. Results are similar to reading a mercury thermometer by determining the level at which the colored bar ends in the lateral scale test results window. A comprehensive user manual is included with each Anema Meter test kit with full color step by step graphical illustrations and instructions.
The BioSafe® Anemia Meter is now available for home or professional use in the following standard sales units. Each test kit is all inclusive and individually boxed with all the components required to perform one hemoglobin (Hb) Anemia test. The test device is single use only and should be disposed of properly after use. Professional and reseller volume discounts may apply to quantity purchases beyond the sale units listed. Contact Customer Service for volume quotations.
Description

Packaging

Units

Cost

BioSafe® Anemia Meter Rapid Anemia Test

Boxed Kit each

One (1)

Product Discontinued

Three (3)

Product Discontinued

Six (6)

Product Discontinued

Twelve (12)

Product Discontinued

*If the order buttons are absent or inoperable, please use the pricing overview page to order.
* All test results are preliminary only and should be confirmed with a healthcare provider for proper diagnosis