SpermCHECK™ Male Fertility Test

Rapid At Home

Male Fertility

/Infertility

Screening Test Kit


FDA cleared for home use

A simple, initial screening test to measure sperm concentration levels in human male semen. The SpermCHECK™ test determines whether sperm concentration is above or below 20 million sperm cells per milliliter (million/mL) of specimen sample, the international cut-off standard established for male fertility/infertility diagnosis by the World Health Organization and N.I.H. SpermCHECK™ is a simple, easy to perform test that can be performed privately at home to check adequate sperm concentration without the cost and embarrassment of doctor evaluation. SpermCHECK is FDA cleared for home use.
Principle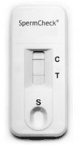 The SpermCHECK Male Fertility Test works by detecting an antigen (a protein compound) found on the surface of the head of a sperm cell known as SP-10. Research has shown that SP-10 concentrations can be used to determine sperm count number. To perform the test, you will mix your semen with a detergent-containing substance, called a buffer, which releases the SP-10 protein from the sperm. When a few drops of this mixture are added to the sample well, the SP-10 proteins contained in the mixture bind to a different protein compound containing colloidal gold. As this newly formed gold-SP10 complex flows through the test membrane, it will cause a reddish line to appear at the "test line" position in the results window if your sperm count is at least 20 million sperm per milliliter, indicating that you have a "normal" sperm count. If your sperm count is lower than 20 million sperm per milliliter, no reddish line will appear at the test line position. Studies conducted at the University of Virginia found the SpermCHECK Fertility test to be accurate 96 times out of 100.
Background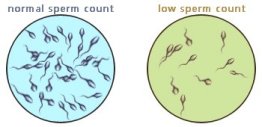 Sperm concentration is one of the primary factors used by physicians to diagnose male infertility. There are many reasons why a man may be infertile and therefore unable to fertilize the female ovum during reproduction. One primary and most common reason is an abnormally low production of viable sperm cells. Other reasons can be over production of inactive, weak, or deformed sperm cells, high levels of other cells in the semen that interfere with fertilization, or other physiological factors. Medical or physical conditions may also interfere with normal sperm cell production, including high stress, recent high fever or illness experienced within two months prior to testing, and abrupt changes in diet. Taking this initial screening test will indicate if a low amount of sperm production exists.
Up to 15% of couples experience infertility, which is defined as the failure to become pregnant after one year of unprotected, well-timed intercourse. And, in 40% of couples struggling with infertility issues, male infertility is the primary cause. Because low sperm count is a leading cause of male infertility, an important first step in determining the cause of a couple's infertility issues is to test the man's sperm count. However, a trip to a fertility clinic for a semen analysis is not for everyone. These tests can be expensive (costing hundreds of dollars and not typically covered by insurance), and are often embarrassing and inconvenient.

Researchers at the University of Virginia developed the FDA-approved SpermCHECK Fertility in recognition of the need for an affordable and easy-to-use sperm count test that could be performed at home. A clinical study comparing the accuracy of SpermCHECK Fertility to standard in-laboratory sperm count methods showed that SpermCHECK Fertility correctly measures sperm count 96% of the time.

The SpermCHECK Fertility is fast, accurate, affordable and simple to use and interpret. With SpermCHECK, you will know within minutes if your sperm count is within "normal" range (above 20 million sperm per milliliter of semen is the accepted standard for "normal" sperm count). A positive result indicates that your sperm count is above 20 million sperm per milliliter of semen. A negative result indicates that the count is below the 20 million sperm per milliliter threshold, and that further testing by your doctor might be warranted.

SpermCHECK™ Test Components

Each SpermCHECK™ Male Fertility Screening Test Kit contains all the required materials and reagents to perform one test procedure.
1 SpermCHECK™ Sealed Test Cassette
1 Vial Fertility Reagent Test Solution
1 Package Semen Transfer Devices
1 Liquefaction Collection Cup
1 Complete Test Instruction Manual
Test Procedure:
A semen sample is collected in the liquefaction cup provided. The sample should be collected within 2-7 days after the last ejaculation. The sample should then be allowed to stand for twenty (20) minutes. Using the semen transfer device provided, fill the transfer device up to the black line indicated on the device with the semen sample. The semen sample is then added to the vial of fertility reagent test solution provided. Mix the semen sample and test solution by turning the vial upside down 5-10 times. Let the vial stand for an additional two minutes. Twist off the Fertility reagent vial cap and add 6 drops of the semen sample solution to the sample well on the test cassette device marked "S". Read the test results after 7 minutes.
Interpretation of Test Results
Positive (Fertile)

Negative (Infertile)

A line developing in the test area (T) and a line developing in the the control area (C) of the test cassette device is a positive test result (sperm concentration is equal to or above 20 million/mL). The test line may be darker or lighter than the control line. Any line developing in the test area is a positive test.

A line developing in the Control area (C) and no line developing in the test area (T) of the test device is a negative test result (sperm concentration below 20 million/mL).Failure of a line developing in the control region (C) is an invalid test. This occurs primarily when insufficient sample was added to the sample well.
The SpermCHECK™ Male Fertility Screening Test has recently been approved for use by the FDA, method and claims, and is now available to individuals and professionals concerned with male infertility. Each test kit contains all the components listed above including comprehensive instructions and reference documentation. The SpermCHECK™ Male Fertility test kit comes in sales units of 1,3,6 and 12 boxed kits.
Description

Sale Unit

Cost

SpermCHECK™ Male Fertility Screening Test

One (1) Test Kit

$39.95

Three (3) Test Kits

$99.00

Six (6) Test Kits

$192.00

Twelve (12) Tests

$360.00

*If the order buttons are absent or inoperable, please use the pricing overview page to order.
For purchases greater than Twelve (12) kits please contact us by e-mail: Customer Service