The Portable Travel Bidet

Go anywhere Personal Hygiene System

Provides the ultimate in discrete personal hygiene for both men and women by featuring dual action warm water cleansing. Activated by a simple button touch, the hidden wand extends to provide a strong but gentle aerated stream of warm water for personal cleansing that leaves the user feeling clean and refreshed anywhere, anytime. Use of a bidet is medically prescribed for sanitary and non irritating cleansing of genital and anal tissue relieving hemorrhoid irritation and pain, Vaginosis, urinary tract infections and other soft tissue ailments.
INTENDED USE
The Portable Bidet provides non-irritating, sanitary warm water cleansing of genital and anal tissues to provide the user with a convenient, discrete method of personal hygiene. The self contained unit provides a steady stream of warm water through three user selectable washing heads, strong, gentle and internal. In addition to overall personal hygiene, intended uses include cleansing of irritated or infected hemorrhoidal and vaginal tissue, constipation and diarrhea relief, infant diaper rash and cleansing, menstruation and vaginal discharge.
PRINCIPLE AND BACKGROUND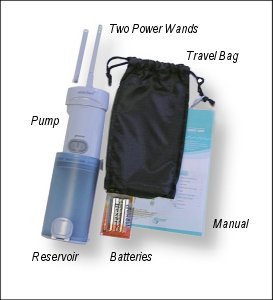 Historically, bidets have long been a standard bath fixture for providing personal hygiene primarily in European and Asian countries. Americans have been slow to recognize the many benefits associated with bidet use and acceptance is far less common. Common sense should indicate that a gentle warm water wash is far superior to the somewhat archaic and often irritating method of using fibrous tissue paper to clean sensitive tissue.
Feminine Hygiene: Most physicians agree that products such as feminine hygiene deodorants and moist cloth towelettes may potentially be harmful and irritate the delicate tissues of the urinary meatus and vaginal opening causing infection. Cleansing with fresh running water daily by using a Bidet is the most effected way to achieve the highest level of personal hygiene.
Vaginal Discharge: During the reproductive years it is normal for women to experience some mucous secretion from the walls of the vagina and neck of the cervix. This varies amongst women and at different times during the menstrual cycle making it more difficult to achieve good Menstrual Freshness. Birth control pills can increase or decrease the discharge and secretions and are particularly greater during pregnancy. Sexual stimulation, with or without intercourse, also produces increased vaginal discharge. All of these secretions and discharges can be offensive. Daily use of a bidet will dramatically reduce discomfort and most importantly held eliminate offensive odors especially in warmer weather.
Sexual Intercourse: Cleansing with fresh running water before and after intercourse plays an important role in preventing infections and keeping you fresh and clean naturally. Rinsing with the Mini-Shower Bidet after intercourse is also very important in preventing infections and maintaining the highest level of personal hygiene possible, naturally.
Hemorrhoids Treatment Relief and Cleansing: Maintaining good hygiene and keeping the hemorrhoids clean without wiping with abrasive tissue papers is the most important part of treating bleeding, painful and the itching associated with hemorrhoids. Multiple daily cleansing with fresh running water is the most soothing effective way to eliminate the use of messy creams and suppositories, which are unpleasant to use and are often ineffective. Doctors also recommend cleansing with a bidet over the use of moist pads because the ingredients in moist pads can sometimes produce an allergic reaction, which adds to the irritation and discomfort of hemorrhoids. Some physicians also believe that scents and inks in decorative toilet papers may cause irritation.
Chronic Urinary Tract Infection: A bidet provides fresh water wash on a non-irritating, thorough cleansing and additional therapeutic benefits for the rectum, fabina, and urethra. Avoiding contamination of the urethra is recommended as a preventive measure when dealing with Cystitis and Urethritis. A bidet provides a fresh water wash and cleansing not achievable through the use of dry paper.
Constipation: The upward stream of warm water, provided by a bidet, directly into the rectum in a steady stream serves to relax the internal and external sphincter muscles controlling the anus, thus permitting contraction of the muscular walls of the rectum, causing feces to be more easily passed without straining. The bidet's cleansing nozzle stimulates a bowel movement by relaxing the sphincters and lubricating the anus. An 8-10 second application of direct warm water flow is recommended prior to attempting to defecate.
Infant Hygiene: The skin and soft tissues of newborns and infants is extremely sensitive to irritation. Use of the "gentle" washing head with warm fresh water to clean feces and urine from affected areas helps prevent rashes and provides superior sanitation.
Diarrhea and Dysentery: Both debilitating ailments have things in common, several being: Constant trips to the toilet and subsequent need to wipe the anus causes painful friction of the rectum, which is especially painful for young children. Body fluids excreted when suffering from diarrhea or dysentery irritate, the rectum due to their acidic toxic discharge. Again, wiping the anus exacerbates the problem causing much pain and discomfort. When suffering from either ailment, the bidet's smoothing and cleansing actions utilizing a cool water flow is literally a miracle to those afflicted. The bidet's cleansing nozzles prevent irritation as well as flushing away bodily fluids discharged as a result of these ailments. Pat drying with soft towel eliminates the resultant wetness causing no irritation, no matter how many trips to the toilet.
USE
| | | |
| --- | --- | --- |
| | | |
| Insert strong Wash Head | Insert Gentle Wash Head | Easy, Push Button Operation |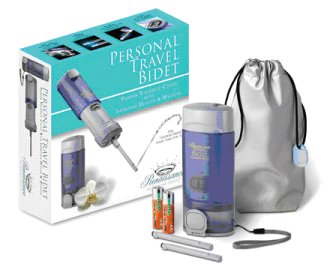 The Portable Bidet is completely self contained and constructed of high impact ABS plastic. The unit is substantial with a commercial grade water pump designed for heavy use. The main pump and power unit slides forward creating a water tight reservoir. The reservoir is filled with either warm or cool tap water. The washing wand and head is then extended. Two washing heads are included with the unit providing two power flows, gentle external and strong external. Washing is simply accomplished by directing the wand and outlet head to the appropriate area and pressing the power button on the side of the unit. The washing heads are easily detached for cleaning and the water reservoir can be easily refilled for additional washes as necessary. After use, the washing wand folds back into the main pump and power unit which then slides back into the reservoir to its compact size until needed again. Besides routine wand cleaning and battery replacement, maintenance should not be necessary. Over long term use, two standard rubber o rings may become worn and need replacement. These are easily obtained at any plumbing supply retail store. Despite it's use of standard battery power, The Portable Bidet employs a sophisticated and powerful water pump. Measured water stream using the strong washing head extended 10+ feet. Washing pressure exceeds established standards for a hand held bidet.
SPECIFICATIONS
Model

SC-100 Portable Travel Bidet

Weight

275g, .60 lb with batteries

Power

Alkaline Battery (AA)
1.5 Volt (2)

Reservoir Capacity

180 ml, .04 gal

Size

Closed: 2⅝"W x 1⅞"D x 5⅛"L
Open, extended wand: 2⅝"W x 1⅞"D x 11¾"

Pump Flow
rate

Strong head .003 gal/sec
Gentle head .0021 gal/sec
Measured 10+ ft/strong head

Battery Life

@70° F, 50 washings (approximate)

Included
Accessories

Portable Bidet Unit
Batteries (AAx2)
Two (2) Wand Power heads (Strong, Gentle)
Sateen Travel case
Instruction Manual
The Portable Bidet is available in sales units of 1, 3, 6, 12 and 24 boxed units, For a volume quotation exceeding 24 units please contact our sales department. Each boxed unit includes the portable bidet, Carry strap, two (2) interchangeable power head washing wands (strong, and gentle), two (2) 1.5v AA batteries, travel case and instruction manual, Limited one year factory warranty.
Description

Packaging

Sales Unit

Cost

Order

Portable Bidet Personal Hygiene System

w/Accessories, Boxed

One (1) Each

$39.50

Three (3) Each

$108.00

Six (6) Each

$195.00

Twelve (12) Each

$348.00

Twenty Four (24) Each

$600.00

*If the order buttons are absent or inoperable, please use the page to order.