IBASAL ® Basal Thermometer and Ovulation Prediction Computer

(formerly Petite Sophia)

A revolutionary, highly accurate, precise BBT thermometer with automatic temperature and cycle data storage and tracking, cycle graphing, visual LCD display indicators, automatic fertility indicator, memo input, audible alarm prompting and other custom features for all natural family planning. Exceeds the FDA GAMP sensitivity and accuracy standards established for basal body temperature recordings for medical charting. Programmed for the Fahrenheit temperature scale. CE marked for export, FDA approved.

A Revolutionary and Unique, Multi-Function Computerized Digital Thermometer with on-chip memory and data processing for BBT Charting and Identification of the Fertile Ovulatory Period in Human Females using the Sympto-Thermal Method of Fertility Prediction. Precision Accuracy to nine one hundredth (9/100) of One Degree Fahrenheit (.05 Degree Celsius).
INTENDED USE
Hormonal changes associated with ovulation produce a rise in a woman's basal body temperature, approximately =/> 0.5ºF/0.3ºC, as well as other recognizable signs such as changes in cervical mucus. Learning to record and interpret basal temperature changes is known as the Basal Temperature Method (BBT). By monitoring the basal temperature changes, couples, in conjunction with their physician or family planning counselor, may be able to determine that ovulation has taken place and approximately when. Monitoring other symptoms, such as cervical mucus changes, can assist in determining the fertile days prior to ovulation. When temperature changes are used in conjunction with other cycle symptoms, such as the consistency of cervical mucus or cramps, it is known as the Sympto-Thermal Method. Time of ovulation can be used to plan sexual intercourse during fertile days to aid in increasing the likelihood of achieving pregnancy. Likewise, the basal temperature change used in conjunction with other methods can be used to help determine times for avoidance of sexual intercourse if the couple wishes to avoid pregnancy.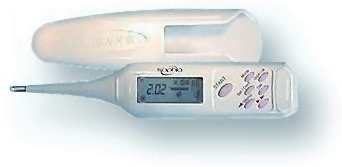 The IBASAL™ computerized digital thermometer was developed to chart and track the BBT using this Sympto-Thermal Method. Internal memory storage and data input options allow this thermometer to track the female cycle and automatically alert the user to the onset of the fertile period through a visual fertility symbol located on the LCD display panel (see below). Basal body temperatures are automatically stored and visibly charted for 10 consecutive days in low and high phase. Stored temperatures and memo data inputs are then automatically correlated and computed internally resulting in a customized historical cycle and fertility predictive capability. Memo data input allows the user to record six additional independent variables for each BBT reading including spotting, cramps, cervical mucus, intercourse and other factors important to sympto-thermal BBT charting. The OvuTherm™ Sophia digital thermometer uses "smart" micro-technology to predict not only the fertile period but other symptoms such as possible illness or fever that can effect graph and chart interpretation.
BASIC OPERATION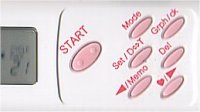 The IBASAL™ OPT thermometer is used daily for temperature recording. A programmable alarm can be set to alert the user when to record the BBT to keep test times consistent each day. Routine use is a simple process of placing the thermometer probe under the tongue, waiting for the audible beep, and then inputting any physical variable(s). Data storage is automatic. All data is inputted, stored and displayed through the unit's unique LCD digital display using visual symbols and associated enter buttons located on the unit's handle. Temperature readings are automatically stored by date, correlated against variable inputs and then charted on the display panel. The heart of this unique OPT thermometer is the display panel featuring high definition liquid crystal display (LCD) symbols and digital readouts that are user friendly and easy to interpret including a charting function that displays real time status of high/low temperature variations to date.
LCD DIGITAL DISPLAY
| | | |
| --- | --- | --- |
| Input and program function symbols indicate type of data input. BBT temperature graph tracks consecutive high/low readings. Special symbols indicate data interpretation and signal fertile days, possible pregnancy or medical condition alert. | | Cycle day is tracked and identified. Special number display indicates cycle phase and rhythm timing. Variable inputs are recorded through these symbols: Bleeding or Spotting (X) Cramps (?) Fever (F) Intercourse (O) Medication (M) Cervical Mucus type (+,‡ ?) |
The IBASAL™ BBT thermometer will store and track up to 210 separate temperature recordings. This Memory and data recall ability eliminates the necessity of keeping separate and tedious temperature charts and the internal microcomputer chip interprets all stored data and makes the best prediction automatically.
SPECIFICATIONS
Measurement method
Peak holding method and 5 minutes measurement in two steps, zero-gradient detection with thermistor technology, microchip sensor
Precision range
93.20°

F (

34.00°

C)

to

104.0

°

F(40

°

C

)

Measurement accuracy

+/- .05

°

C 34.00

°

C - 39.00

°

C (

normal

basal

body temperature range

)

, +/-0.

07

°

C

< 34.00

°

C and > 39.00

°

C (abnormal basal body temperature range

)
Temperature display

0

0.0

0

°

Fahrenheit scale

Graphic display

LED

View of 10 days on display storage =< 210 days on recall
Power
DC 3V (1 x CR2032 Lithium)
Power consumption
Approx. 2 micro-Amp (when measuring), Approx. 30 micro-Amp (clock display)
Lifetime of battery
Approx. 9 months (typical use)
Operating temperature
40°

F

to

104

°

F

Storage temperature
14°

F

to

115

°

F

Dimensions
147mm x 33mm x 20mm (width x depth x height)
Weight
Approx. 43g
Each IBASAL™ BBT thermometer is individually boxed with a comprehensive operating instruction manual and specification/warranty information. Cost per unit is volume sensitive and can be ordered in standard sales units shown below. The IBASAL™ thermometer exceeds the FDA GAMP sensitivity and accuracy standards established for basal body temperature recordings for medical charting. Standard Lithium 3 volt electronic batteries are easily replaced and power the unit for approximately nine months under normal use.
Description
Sale Unit
Cost
Order

IBASAL™ OPT Digital Computerized Thermometer

One (1) Unit

$59.90

Three (3) Units

$172.50

Six (6) Units

$324.00

Twelve (12) Units

$612.00

*If the order buttons are absent or inoperable, please use the pricing overview page to order.
For quantity purchases exceeding the standard sales units shown please contact Customer Service for special volume pricing