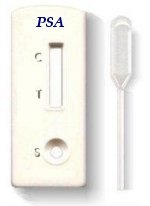 PSA RapidScreen Test (Cassette Type)
FOR EXPORT AND U.S. LABORATORY RESEARCH SALE ONLY

A rapid qualitative forensic diagnostic test for determining elevated Prostate Specific Antigen (PSA) levels of less than, equal or greater than 4ng/ml in whole blood at 98% accuracy when used in strict accordance with test procedures. Levels above 4 ng/ml should be investigated by more quantitative analysis and discussed with a healthcare professional.
INTENDED USE:

The PSA (Prostate Specific Antigen) RapidScreen test is an initial semi-quantitative screening test to detect PSA system levels in whole blood equal to, or greater than, 4 ng/ml and within ten minutes. System PSA levels of 4 ng/ml or greater are generally accepted to be an indication that further evaluation and consultation with a healthcare professional is warranted. PSA concentration of 10ng/ml or greater is considered a warning point for immediate clinical evaluation.
PRINCIPLES OF THE TEST

Prostate Specific Antigen (PSA) is secreted by the epithelial cells of the acini and ducts in the prostate gland. Normal total PSA concentration in whole blood is 0.1-2.6 ng/ml PSA. Studies have suggested that elevated levels of PSA is a most useful tumor marker in the preliminary diagnosis of prostate cancers. Cut off points were generally agreed at 4ng/ml PSA, and the warning point at 10ng/ml. The PSA RapidScreen Test is calibrated to detect PSA levels at or above 4 ng/ml.

The PSA RapidScreen Test utilizes a two site sandwich immunoassay technology using specific antibodies to PSA for the qualitative detection of PSA concentration in whole blood. PSA specific antibodies are coated on the membrane as chemical capture reagents on the test band regions of the test device. During the test, the specimen reacts with anti-PSA gold conjugate while moving laterally on the membrane towards the far end of the test panel area. If PSA level is close to or higher than 4 ng/ml in the specimen, a color band (T line) will develop in the test (T) region indicating a positive result If no T line forms in the test region, the test result is considered negative. This improved test device has a built in control line (C) that should always appear in the control region to verify reactivity and proper test performance provide an internal quality control.

TEST COMPONENTS PROVIDED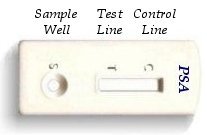 PRECAUTIONS
1. For forensic or research use only.
2. Do not use the test after the expiration date stamped on the package
3. Keep the test device in the sealed foil pouch until just prior to use.
4. Read the entire instruction sheet carefully prior to testing.
5. Do not allow liquid contaminants to come in contact with the test.
6. Perform the test in a well-lit, clean area.
7. Do not touch the test area or sample well parts of the cassette.
TEST PROCEDURE
• Insure that the test device and buffer solution are at room temperature.
• Check the expiration date stamped on the test pouch. Do not use if past the expiration date.
• Remove the test cassette and pipette and place the test cassette on a flat surface with the test window and sample well facing up.
• Swab fingertip with alcohol swab and wait 30-45 seconds for the alcohol to dry. This will minimize any sting from the lancet.
• Prick fingertip with the sterile lancet to obtain a large or "hanging" drop of blood.
• You may either place the blood drop directly from fingertip into the sample well or use the pipette provided to draw up a blood sample and then transfer it to the sample well.
• WAIT 30 SECONDS FOR THE SPECIMEN TO BE ABSORBED COMPLETELY
• Add two drops of the PSA buffer solution to the sample well.
• You should then observe the migration of the test sample across the test window. If migration does not start, add an additional drop of buffer solution.

INTERPRETATION OF RESULTS
Strong positive results in the form of a burgundy colored test band in the test region (T) may be observed in 2-3 minutes. Very weak positive test results may take a longer time, up to ten (10) minutes. Interpret test results at ten (10) minutes. Do not interpret test results after fifteen (15) minutes. If the test is positive, the time elapsed before the test (T) band appears is a general indication of how concentrated beyond 4 ng/ml PSA is in the system
NEGATIVE

POSITIVE 4ng/ml

INVALID

No line develops in the test area within 8-10 minutes. The absence of a T band means PSA levels are less than 4 ng/ml.

A Test (T) band develops in the test area. The test line may be weaker or stronger than the control line and indicates a positive result. PSA level is 4 ng/ml +

. Any line, no matter how faint developing in the T region is a positive test.

A Control line does not develop indicating an invalid test. No test interpretation should be made. Indications are inadequate sample or buffer and or user error. Repeat the test.
NOTE: There may be a question of qualitative judgment involved in comparing the color and intensity of the Test (T) band with the Reference (R) band to arrive at the most accurate test results. If there is uncertainty involved in this comparison, it is recommended in such cases to either assume the lower quantitative result or seek another individual's interpretation of color and intensity.
LIMITATION AND DISCLAIMER

The PSA RapidScreen Test is a qualitative test and quantitative specificity is not claimed. A positive result does not, under any circumstances, confirm a diagnosis of prostate cancer or abnormal PSA. The PSA RapidScreen Test is intended as an initial screen for elevated levels of PSA and any positive result should be followed up with a physician or healthcare provider for clinical and laboratory test confirmation.
Presently, the PSA RapidScreen Test Cassette can only be shipped to Non U.S. Delivery Addresses or in the U.S. to clinical laboratories for research purposes. Tests are available in units of 50, 100 or 300 tests. Each test is factory sealed and stamped with lot# and expiration date. PSA wash buffer is included with instructions (in English). For quantities in excess of 300 units send inquiries to Customer Service.
| | | | | |
| --- | --- | --- | --- | --- |
| Description | Packaging | Units | Cost | |
| PSA RapidScreen WB cassette test | Individual Sealed w/pipette, buffer | 50 | $225.00 | |
| | | 100 | $375.00 | |
| | | 300 | $975.00 | |