AT RISK OR CONCERNED ABOUT PROSTATE CANCER?
Dateline...Washington D.C....
PSA Laboratory Prostate Cancer Screening Test
Personal & Confidential at Home Laboratory Testing Service

A confidential, quantitative diagnostic test performed at home for determining elevated Prostate Specific Antigen (PSA) levels. High blood serum PSA readings have been confirmed and validated as a significant marker for abnormal prostate function including malignant cancerous tumors. A PSA level blood screen plus a digital palpitation examination is recommended for all men aged fifty and older as part of the routine physical examination.
INTENDED USE:

The PSA Laboratory (Prostate Specific Antigen) Screening test is a quantitative laboratory screening test to identify PSA system levels in whole blood. System PSA levels of 3 ng/ml or greater are generally accepted to be an indication that further evaluation and consultation with a healthcare professional is warranted. The PSA Laboratory Prostate Cancer Screening Test provides the same clinical results that can be obtained from a local medical laboratory without the high expense and inconvenience of physician appointments, laboratory fees, and often painful and unnecessary procedure of direct venous or arterial blood draws. The test is performed at home, takes less than 10 minutes and results are obtained in approximately the same time as those routinely ordered through a physician.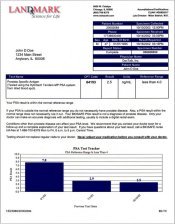 Sample Test Result
Click to Enlarge
PRINCIPLES OF THE TEST

Prostate Specific Antigen (PSA) is secreted by the epithelial cells of the acini and ducts in the prostate gland. Normal total PSA concentration in whole blood is 0.1-2.6 ng/ml PSA. Laboratory and medical research studies have determined that elevated levels of PSA is a most useful tumor marker in the preliminary diagnosis of prostate cancers. Normal levels are generally agreed to range up to 3 ng/ml PSA, elevated levels up to 9 ng/ml and levels over 9 ng/ml as extremely abnormal. High PSA levels are not definitive in themselves as a diagnosis of prostate cancer. Other procedures are necessary to confirm a diagnosis including ultrasound and biopsy. Benign Prostatic Hyperplasia (BPH) or enlargement of the prostate is very common in men over fifty and typical symptoms mimic more serious prostatic complications thus necessitating further examination. However, as with most cancers, early detection can greatly improve the successful treatment of the disease and the PSA Screening Test can provide valuable information in that regard.
TEST COMPONENTS PROVIDED
• PSA Sample Collection Kit: Pre-treated sample card, finger lancet, gauze, alcohol swab, band-aid, test form and instruction manual
• Prepaid laboratory mailer
• Prepaid quantitative PSA analysis by CLIA Certified Laboratory
• Laboratory notification, certification, review and explanation of test results by a physician within 5 days
TEST PROCEDURE
The PSA Laboratory test is very easy to perform in the privacy, confidentiality and convenience of the home. The Five basic steps: The carbonless sample identification form is filled out, A blood sample is obtained through a simple finger prick using the virtually painless, spring loaded lancet, the sample blood is applied to special predefined areas on a sample collection card, a copy of the completed form, the collection card are then placed in the pre-addressed, postage paid mailer and sent to the laboratory. PSA specific tests are performed, the results are tabulated in report form, reviewed by a physician and posted on the Laboratory Website for download.
Complete
Form
Get
Sample
Apply
Sample
Mail
Get
Results Online
The PSA Laboratory Prostate Cancer Screening Test is available for home or professional use in the following standard sales units. Each test kit is all inclusive and individually boxed with all the components required to perform one PSA test and laboratory analysis report. There is no additional costs beyond the kit purchase price and all laboratory processing fees, physician review and mailing costs are prepaid and included. Cost of the test may be reimbursable under certain insurance plans* however purchaser must handle this separately. Professional and reseller volume discounts apply to quantity purchases beyond the sale units listed. Contact Customer Service for volume quotations.
Description

Packaging

Units

Cost

Order

PSA Laboratory Home Screening Test

Collection Kit each

One (1)

$69.00

Three (3)

$195.00

Six (6)

$360.00

Twelve (12)

$690.00

*If the order buttons are absent or inoperable, please use the pricing overview page to order.
* No responsibility for insurance reimbursement is assumed and no information on specific coverage is provided