Q.E.D.® Saliva Alcohol Test
DOT Approved for evidentiary alcohol testing

A Quantitative test device for the rapid determination of Equivalent Blood Alcohol Content (BAC) Using a non-invasive saliva sample. Approved by the Federal Department of Transportation (DOT) for commercial alcohol testing programs, the Q.E.D. test also meets USCG standards for on board maritime regulations. The QED saliva test uses a unique patented lateral flow method to rapidly determine alcohol presence in saliva expressed as % BAC and ml/dl concentration. Test result interpretation is as simple as reading a thermometer.
PRINCIPLE
• Meets 2006 U.S. Coast Guard Maritime Requirements
• Non Invasive, Quantitative Results in 2-4 Minutes
• Interpretation like Reading a Thermometer
• Long Shelf Life of 1 Year Plus
• Individually Sealed in Foil Envelope with Cotton Swabs
• Built-in Quality Control and Calibration
• U.S. DOT Approved for Testing and Evidence
• High Correlation (r=.098) to Blood Analysis results
• No Special Equipment or Training Required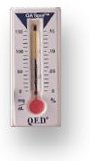 The Q.E.D.® Saliva Alcohol test is a technological breakthrough that can be used as an accurate, quantitative measurement device for obtaining blood alcohol levels using a saliva sample. The test can reliably be used in place of blood, urine, or breath testing methods which require expensive equipment and operator training. Through a preset chemical reactive process that requires no user intervention, a color bar rises to the level of alcohol present in the system in much the same way as a mercury thermometer. In extensive clinical trials, saliva alcohol levels measured by the Q.E.D.® Saliva Alcohol test demonstrated a high correlation rate of 98% (r=0.98) to blood analyzed by sophisticated laboratory gas chromatography methods. Frequently asked questions
TEST PROCEDURE
The Q.E.D.® Saliva Alcohol Test is an easy to use diagnostic procedure with everything required contained in a sealed foil package. Total time required for the test is between 3 and 5 minutes. The three basic steps are as follows:
| | | |
| --- | --- | --- |
| | | |
| 1. Using the cotton swab included, actively swab around the cheeks, gums, and tongue for 30-60 seconds or until the cotton swab is completely saturated with saliva. | 2. Place the test device on a flat surface. Gently twist the swab with the collected saliva sample into the entry port and apply steady pressure to activate the capillary action until the pink fluid passes the QA Spot™ located at the top of the test device. | 3. Read the test results. Allow the test device to develop for two minutes. A distinct purple bar will form within the marked scale region. The highest point of the purple bar represents the level of Alcohol expressed as either a percentage (.0x%) or milligrams (ml/dL) concentration. |
The Q.E.D.® Saliva Alcohol Test will accurately measure a range of blood alcohol concentration of 0-145mg/dL or 0.0%-0.145% equivalent BAC, the top range being almost twice that of the legal limit of 0.08% BAC. For Frequently asked questions on the Q.E.D.® Saliva Alcohol Test see the Q.E.D FAQ.
AVAILABILITY AND ORDERING

The Q.E.D.® Saliva Alcohol Test is available in Two (2), Five (5), Ten (10), Twenty (20) test packs*, a Clinical/Professional Box of Thirty (30) tests and a master case of One hundred (100) tests. Each pack contains everything required for testing along with complete, detailed instructions and technical background information. Additionally and when necessary for quality control verification, ethanol control solutions are available in a set of two vials. The ethanol control set is available separately and may be ordered below.
Description

Packaging

Order Unit

Cost

Q.E.D.® Saliva Alcohol Test

Sealed Kit Each

Two (2) Pack

$18.90

Five (5) Pack

$45.00

Ten (10) Pack

$85.00

Twenty (20) Pack

$150.00

Thirty (30) Test Box

$210.00

One Hundred (100) Test Case

$670.00

Q.E.D.® Ethanol Control Set

Vial

One Set of Two (2) vials

$49.50

*If the order buttons are absent or inoperable, please use the pricing overview page to order.
* For bulk pricing exceeding one hundred (200) units contact us by e-mail Customer Service