Drug Testing Controls
Universal Positive/Negative Control Solutions for On-Site Drug of Abuse Urine Tests 25ml +/-

Professional, laboratory grade positive and negative control set for confirming quality and performance accuracy of lateral flow urine drug of abuse tests. Also used for laboratory reporting requirements for these types of tests when required. Positive control is synthetic urine spiked with 3X the SAMSHA cutoff levels established for 15 drug or drug metabolites routinely tested and screened for by onsite lateral flow urine test devices. Negative control is synthetic urine with zero drug or drug metabolites present.
INTENDED USE
For a comprehensive discussion on drug of abuse testing including typical detection time periods see the DRUG TESTING FAQ
Multitox on-site synthetic urine drug testing controls. Toxicology controls prepared from synthetic urine matrix are designed to monitor the performance of onsite drug of abuse lateral flow tests devices using a urine sample. Amtox controls are compatible with all the qualitative and quantitative drug detection procedures and devices that are based on their sensitivity to detect drug and drug metabolites in human urine using the immunoassay lateral flow method. This method is used in virtually all onsite drug of abuse test devices. They should be treated as any "unknown" urine specimen when following the specific protocol of the test being used.
Note: Because Multitox drug controls are manufactured from synthetic urine matrix, they do not contain potentially infectious biological material. Special handling or disposal of Amtox urine controls is not required. Controls contain sodium azide. To prevent formation of explosive metal azides dispose of any waste by flushing with copious amounts of water or according to local governing regulations. Amtox controls are to used for quality assurance only..
SUMMARY AND EXPLANATION OF THE TEST
The Mutitox positive control is synthetic urine spiked with 3x the cutoff level for drug and drug metabolites established by SAMSHA and other regulating authorities for drug of abuse testing. The positive control will mimic human urine containing 15 drug and drug metabolites according to the chart below. The negative control will mimic drug free human urine. Controls are used as "unknown samples" to confirm the proper operation and test results in lateral flow drug of abuse urine test devices. They should be used in the same manner as actual urine samples according to the test instructions.
SENSITIVITY OF MULTITOX DRUG TESTING CONTROLS
The Amtox Positive and negative controls are spiked with drug and drug metabolite concentrations according to the following cutoff target values. Important Note: The positive control is "universal" and contains all the drug and drug metabolites listed in one control solution. Individual positive controls are not available for each separate drug or drug metabolite.
MULTITOX ONSITE SYNTHETIC URINE CONTROL FOR DRUG OF ABUSE TEST DEVICES
all concentrations sown in (ng/ml)

DRUG/METABOLITE

NEGATIVE

POSITIVE

d-Amphetamine

0

3000

d-Methamphetamine

0

3000

Benzaylecgonine (Cocaine)

0

900

Morphine (Opiates)

0

6000

PCP

0

75

Delta-9-THC-COOH (Marijuana)

0

150

Secobarbital (Barbiturates)

0

900

Oxazepam (Benzodiazepines)

0

900

Methadone

0

900

MDMA (Ecstasy)

0

1500

Propoxyphene

0

900

Oxycodone (Synthetic Opiates)

0

300

Nortriptyline (tricyllic antidepressants)

0

3000

Cotinine (Nicotine)

0

600

Buprenorphine (Suboxone)

0

30
MATERIALS PROVIDED: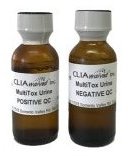 1 each 25ml vial positive (+) synthetic urine control (universal)
1 each 25ml vial negative (-) synthetic urine control (universal)
1 product insert
STABILITY:
Controls are stable for one year or until the expiration date stamped on each vial, whichever comes first, when refrigerated at 2-8° Centigrade and up to 90 days when stored at room temperature from date of opening. Controls should be stored out of, and protected from direct sunlight. Mutitox controls are stable as described however under certain conditions due to repeated handlings and use of the controls there may be a gradual decline in THC optimal detection levels. Since the positive control is calibrated at 3X the standard cutoff level for THC testing at 50 ng/ml, this gradual decline should not significantly effect the accuracy of the positive control.
TYPICAL INTERPRETATION OF TEST RESULTS USING POSITIVE AND NEGATIVE URINE CONTROLS:
| | | |
| --- | --- | --- |
| | | |
| Negative | Positive | Invalid |
| The development of two lines, a control line and a test line, in the test result window indicates a negative test screen for the targeted drug or drug metabolite. | The development of only one line, the control line, in the test result window indicates a positive test screen for the targeted drug or drug metabolite. | The absence of a control line in the test result window indicates an invalid test result regardless of the presence of a test line in the test result window. |
TEST AVAILABILITY AND ORDERING
Multitox Onsite synthetic urine drug of abuse test controls are available in the following sales units. Each sale unit consists of 1 each 25ml vial each universal positive and negative control. Controls should be refrigerated to ensure longest stability upon receipt. Positive and Negative universal drug test control set, 5 ml for quality testing of onsite urine drug test devices. Cutoff values for drugs is as follows: AMP 3,000, mAMP 3,000, COC 900, MOR 6,000, PCP 75, THC 150, BZO 900, BAR 900, MTD 900, MDMA 1,500, PPX 900, OXY 300, TCA 3,000, Buprenorphine 30, and Cotinine 600.
Description
Sale Unit
Cost

Multitox Positive/Negative Drug of Abuse Urine 25ml Control Set

One (1) Set

$130.00

Three (3) Sets

$330.00

Six (6) Sets

$600.00

*If the order buttons are absent or inoperable, please use the pricing overview page to order.