AlcoScan™ AL2000 Alcohol Breath Analyzer
Highly Sensitive 10 Stage LED Alcohol Detector

PRODUCT DISCONTINUED

Quantitative conversion of Breath Alcohol Content to Equivalent Blood Alcohol Percentage (BAC) within seconds. Ten stage LED parameter readout with audible and visual confirmations. Advanced MEMS* gas sensor technology. Self-calibrating.
PRINCIPLE
The AlcoScan AL2000™ Alcohol Breath Analyzer is a highly sensitive scientific instrument which employs an advanced integrated microchip to determine equivalent blood alcohol content within a ten step range of <.01% to .10>%. Easy and convenient to use, the AlcoScan AL2000 has 10 progressive LED indicators plus audible warning codes to clearly indicate levels of intoxication within seconds. The AL2000 employs the recently developed and most advanced *MEMS gas sensor which is alcohol specific eliminating the possible interference from other environmental factors. This professional LED step model is used by many law enforcement and institutional agencies as a relatively low cost frontline field sobriety test for suspect drunk drivers and intoxicated individuals.




*MEMS is the abbreviation for Microelectro-Mechanical Systems, a technology developed at the University of California at Berkley that employs miniscule silicon sensors or "motes" a.k.a "Smart Dust". Smart Dust, as the name implies, is the equivalent of coating a receptor microchip with micro fine powder consisting of millions of individual smart sensor motes. The use of MEMS, or smart dust, exponentially increases the sensitivity and detection effectiveness of the receptor microchip in identifying and quantifying targeted molecules (hydrocarbons in the case of alcohol breath analyzers). This increased sensitivity and accuracy however can be more readily compromised by cigarette smoke or other contaminates in the air. Therefore it is extremely important that MEMS devices be used as free from ambient smoke as possible.
Features and Specifications
Ten (10) Progressive levels of calculated BAC % from <=0.01% through => 0.10%
Accurate to within (+/-) 10% of calculated versus actual BAC levels
Colored LED 10 Step Display with Audible Beeps
Power on Self Test and Visual Ready Prompt
No special Mouthpiece Required
Displays Test results in Two (2) Seconds
Test Recycle time < Twenty (20) Seconds
Advanced Semiconductor Microchip Alcohol Sensor
Power Supply: Three 1.5V AAA Batteries (included)
Approximately Three (3) Continuous Hours Usage Time Between Battery Change
Weight: 125 grams, 4.4 ounces
Dimensions: H=14 cm (5.5") W=5 cm (2") Depth=2 cm (.7") Pocket sized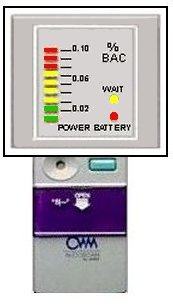 USING THE AlcoScan AL2000

Open the protective cover slide by applying light pressure to the translucent sensor cover sliding it downwards to expose the power button and alcohol sensor microchip.



To turn the unit on, depress the power button firmly for 2-3 seconds. The AlcoScan AL2000 commence a start up process including a self test sequence and automatic re-stabilizing of the alcohol sensor. The LED display will undergo a count up and count down sequence, indicating that purge cycles and circuit tests are taking place. This process generally takes approximately 20 seconds however longer times are possible depending on immediate ambient air conditions (example: testing near cigarette smoke will increase the self test cycle time). Two beeping sounds and a flashing yellow LED light at the WAIT signal indicate the start up process has been completed and the AlcoScan AL2000 is ready to begin a breath scan.

Ensuring your mouth is close to the alcohol sensor, blow one deep breath directly at the sensor chip for at least 2 seconds. Within two (2) seconds any alcohol molecules present in the breath will be identified, processed and converted into BAC percentage equivalent with visual LED and audible beep codes as follows:
| | |
| --- | --- |
| Range | Indicated by |
| 0.00% - 0.01% BAC | No response or Beep sound |
| 0.01% - 0.02% BAC | Beep sound with green LED light(s) |
| 0.03% - 0.05% BAC | Two (2) Beep sounds with yellow LED light(s) |
| 0.05% - 0.10% BAC | Beep sound for 5 seconds with red LED light(s) |
Test results will display for approximately 5-6 seconds and should be read within that period. When the LED indicator bars are no longer illuminated and the yellow LED WAIT light briefly switches off then resumes blinking, the AlcoScan AL2000 is reset and ready for immediate retesting. For additional information on technology method and specificity expectation see Technology and Accuracy.
The three standard 1.5V AAA alkaline batteries (provided) will power the AlcoScan AL2000 for approximately three continuous hours if the power button is not turned off. A red LED power warning light will illuminate if available power from the batteries is near minimum level. While the AlcoScan AL2000 will continue to operate at the low battery signal, fresh batteries should be installed at the earliest opportunity.
PRECAUTIONS
Allow at least 15 minutes between the last consumption of alcohol and testing. See Technology and Accuracy.

Enclosed rooms with low ventilation or air conditioning may delay the time taken for recalibration between tests. A flashing red light at the LOW BATTERY LED signal indicates the ambient air condition is too contaminated for accurate testing (e.g. tobacco smoke). You should move to a different area with cleaner air prior to performing the test scan.

Inadvertent spittle or other contamination of the alcohol sensor chip will delay the time taken for recalibration between tests. In the event of spittle, dirt or other contamination, the unit can be shaken to facilitate a quick recovery of the sensor chip. See Technology and Accuracy.

Avoid touching the alcohol sensor chip as oil from the skin could compromise detection performance. Keep the protective cover slide in the "up" position whenever the unit is not being used.

Smokers should wait for 2-3 minutes after smoking before using the ALAL2000 to insure that no residual smoke from the lungs causes a false test reading.

The following chart indicates the effects of alcohol consumption on BAC:


| | | |
| --- | --- | --- |
| | Using the AlcoScan AL2000 is an economical and accurate way to avoid the many risks associated with alcohol consumption. DUI/DWI State Laws These risks are well publicized and can lead to life threatening consequences not only for intoxicated individual but also for other persons potentially affected by the condition. Used as a monitor, the AlcoScan ALAL2000 can indicate when equivalent blood alcohol percentages are below or above state legal limits preventing potential arrest or worse, reckless endangerment of others. This professional breath analyzer is recommended for "on the spot" testing whenever alcohol consumption is planned or intoxication is suspected. With the exception of replacement of the batteries, the AL2000 should provide accurate readings indefinitely as long as the sensor is not damaged. No additional accessories or diagnostic consumables are required. The AlcoScan AL2000 comes boxed with instructions and batteries. | |
AVAILABILITY AND ORDERING
Description

Packaging
Sale Unit
Cost

AlcoScan AL2000 Pro Breath Analyzer

Boxed

One (1) Test Unit

Product Discontinued

Boxed

Three (3) Test Units

Product Discontinued

Boxed

Six (6) Test Units

Product Discontinued

*If the order buttons are absent or inoperable, please use the pricing overview page to order.
For bulk purchases of Ten (10) units or more please contact us by e-mail Customer Service