QuickSCREEN™ Plus Pro 5 COC Evidentiary Drug Testing
(Formally "At Work" Drug Testing System)

Designed for Criminal Justice, Court-Ordered Rehab, and In-House Evidentiary Employee Drug Testing, the QuickScreen Plus™ Pro 5 COC (Chain of Custody) test kit includes all the necessary components to conduct a legally defensible on-site drug test.

A Chain-of-Custody On-Site Commercial Drug Testing Kit for Drugs Of Abuse. A Complete Drug Screening Kit for use in Specific Applications where Standardized Evidentiary Testing Procedures and Rules of Laboratory Protocol are Indicated. Includes Required Record Forms and Documented Laboratory Confirmation and Physician Review of Positive Test Results for Evidentiary Documentation. Specifically Designed for In-House Employee Drug Testing Programs.
INTENDED USE
For a comprehensive discussion on drug of abuse testing including typical detection time periods see the DRUG TESTING FAQ
The QuickScreen™ Plus Pro 5 COC "At Work" on-site five panel drug testing kit is a forensic diagnostic test card which identifies the presence of of drugs or drug metabolites at or above the standard cutoff sensitivity levels established by the NIDA and World Health Organization. This simple to use testing device screens for THC (marijuana), Cocaine, Amphetamines, Methamphetamines, and Opiates (Morphine, heroin, codeine).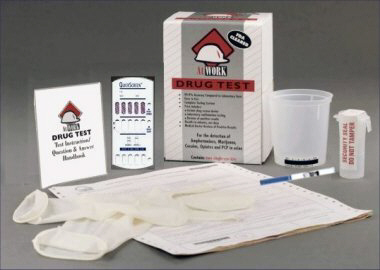 The QuickScreen™ Plus Pro COC kit contains everything necessary to fulfill requirements of chain-of-custody testing standards and procedures where evidentiary documentation and strict record keeping is indicated or required. This kit is ideal for employee in-house drug testing programs and represents significant costs savings over subcontracted programs. Included in the purchase cost of this drug testing system are independent laboratory confirmation of positive test results and further review of those results by a medical doctor. Confirmation of positive test results is required under Department of Transportation approved testing procedures for commercial and work related, employee drug screening programs. In such cases of employee drug screening programs, court probation, or other such applications that may have legal consequences or repercussions, it is highly recommended that a strict compliance with standardized chain of custody testing procedures and rules of evidence be adhered to. These include the proper labeling, safeguards, record keeping and other details necessary to insure a valid testing result. Furthermore suspect positive samples must be confirmed by analytical laboratory procedures beyond the lateral flow, immunoassay method of this testing kit. Without these safeguards, disciplinary action involving employees could be nullified and further, be grounds for damages in employee counter claims.
Each QuickScreen™ Plus Pro COC On-site Kit contains the following: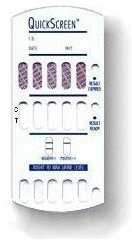 One QuickScreen Pro Five Panel Test Card (THC, COC, AMP, M-Amp and Opiates) factory sealed with expiration date and lot number.

One Urine Sample Collection Container with security seal lid, affixed Temperature Indicator Strip (for recording of sample temperature) and Identification Label.

Prepaid independent laboratory confirmation and physician review of positive test samples. Specimen sample submission vial and pre-labeled laboratory mailer.

Latex Medical gloves for safe handling of test materials

Required Test result and Chain-of-Custody Record Forms in triplicate carbon copy set

Complete set of Testing Procedures and recommendations.

Complete Instructions and use sheets on tests.
AVAILABILITY AND ORDERING

The QuickScreen™ Plus Pro 5 COC commercial on-site drug testing kit is sold in minimum units of 25 test procedures . The The QuickScreen™ Plus Pro COC test kit is designed specifically for commercial and institutional drug testing applications and programs where evidentiary documentation of positive test results is required. Please compare your present employee drug testing cost per test with the costs indicated below. For volume quotations above the standard selling units please contact Customer Service.
Description
Sale Unit
Cost
QuickScreen

Plus

Pro

5

COC

Evidentiary

On-Site Test Kit
Twenty

Five

(2

5

)Test Kits

$550.00

Fifty (

50

) Test Kits

$950.00

Seventy Five

(

75

) Test Kits
$

1,350.00

One Hundred (

100

) Test Kits
$

1,650.00

*If the order buttons are absent or inoperable, please use the pricing overview page to order.

Note: For "At Home" drug testing programs without the strict chain of custody requirement but with laboratory confirmation of preliminary positive test results, the QuickScreen™ Pro "At Home" test kit includes prepaid quantitative laboratory confirmation of suspected positive samples and is well suited for parental home testing programs.