Dateline: Washington DC.... San Diego Tribune, March 3, 2003
EZ DETECT™ A new type of occult blood test used to detect the pre-symptomatic hidden bleeding of gastrointestinal tract diseases including colorectal cancer. It is safer, easier and more pleasant to use than traditional reagent slide tests. EZ DETECT™ is used by placing a chemically treated test pad in the toilet bowl after a bowel movement and watching for a color change. The pad is then simply flushed away. It is clean and disposable, easy for elderly patients to see and interpret, and extremely sensitive, with no increases in false positive rates.
EZ DETECT™ is more cost-effective than reagent slide tests because it requires no stool sampling or handling, no chemical developers, no laboratory processing, and no mailing of fecal materials. Furthermore test results are immediate and require no apprehensive waiting period. Elimination of stool handling overcomes most patient's objections to self-administering such a test. Increased patient acceptance results in wider use of the test leading to greater success in early detection of pathological conditions. For a comparison chart of features of EZ DETECT™ versus the most widely used alternative test see Brand Comparison.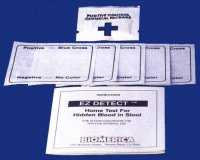 The test pad consists of a piece of biodegradable paper which has been chemically treated with a chromagen in the form of a cross. The pad is simply floated on the surface of the water in the toilet bowl. If detectable blood is present, the hemoglobin will react with the chromagen, and a blue/green color reaction will occur. Each EZ DETECT™ test kit package includes three consecutive day test pads, one water quality check test pad, and one positive control reagent/test pad. For these reasons, EZ DETECT™ is the most comprehensive home occult blood test available. See Chemistry and Specificity.
EZ DETECT™ METHOD AND USE

1. Before using the test kit, the patient should carefully read the instruction and use directions.
2. Factors that could interfere with results include
Blood in the urine from non colon related symptoms.

Bleeding caused by menstruation, constipation, or hemorrhoids.

Agents used to clean and deodorize the toilet (A water quality test pad is included in the test package for this reason).
3. E-Z DETECT™ should be used to test three consecutive bowel movements. To prepare for testing, the following measures should be taken:
Do not use the test if bleeding is present from hemorrhoids and/or menstruation.

All cleaning and deodorizing products should be removed from the toilet bowl by flushing with fresh water at least twice prior to testing then tested with the water quality test pad.
4. Unlike other tests, there are no dietary restrictions (red meat, Vitamin C, etc.) required with EZ DETECT™
EZ DETECT™ TEST KIT CONTENTS

1. Sealed Test package containing five (5) test pads
2. Patient Use and Instruction pamphlet.
3. Positive control reagent pack.
4. Patient Record and Result Chart
BASIC INSTRUCTIONS

Within five minutes after a bowel movement, the test should be performed.
Remove one of the test pads from the package touching only the edges. Place the pad with the printed side up in the toilet bowl. (Note: if there is a green/blue color to the cross prior to testing, DO NOT USE THIS TEST PAD.)

For a period of two minutes, watch the cross on the test pad for any blue/green color change.

No color change within the cross is a negative test result. Any blue/green color change of the cross is a positive result.

The test pad is then flushed with the bowel movement after observing the test results and noting them on the chart provided.
The above procedure is then repeated for the next two consecutive bowel movements.
This graphic simulates an actual test from start to finish. Note as the cross gradually changes color to a blue/green color indicating a positive test result. Had the color change not occurred, the test result would have been negative.

IMPORTANT: A positive test means only that blood is present in the stool. It does not mean that a patient has colorectal cancer. Only diagnostic testing by a physician can determine the cause of bleeding. Consider that there may be other factors that can cause a positive result such as menstruation, hemorrhoids or unrelated infection. If the test is positive, the patient should contact a healthcare professional for further diagnostic and symptomatic evaluation.
AVAILABILITY AND ORDERING
The EZ DETECT™ occult blood tests can provide you with a valuable early warning defense against colon cancer, the second leading cause of cancer death in the U.S. These simple, one-step tests are now available direct at wholesale pricing. Each sale unit, consisting of one complete test package as shown above, is offered at greater than a 50% discount from current retail pricing.
Description

Sale Unit

Qty

Cost

EZ DETECT™ Occult Blood Test

3 Day Complete Test Kit

2 Kits

$11.90

6 Kits

$29.90

12 Kits

$39.90

Physician Office Pack

48 Kits

$120.00

*If the order buttons are absent or inoperable, please use the pricing overview page to order.