InstaCHECK® 2 Dual Panel THC/M-AMP
Drug Test Card (Dip Cassette Type)
Simultaneous Screening for Marijuana and Methamphetamine

For the Rapid, Visual and Simultaneous Detection of Marijuana (THC) and/or Methamphetamine (M-AMP) Use in One Simple to Use and Economical Test Device. Dip Screen Card Incorporates Two Test Panels for Visual Qualitative analysis and Identification of THC and M-AMP Metabolites present at or below concentration levels established by the NIDA, SAMHSA and WHO.
Intended Use
For a comprehensive discussion on drug of abuse testing including typical detection time periods see the DRUG TESTING FAQ
The InstaCheck® 2 Panel Drug Screening Test is a visual, qualitative immunoassay for the rapid detection of THC (marijuana) and Methamphetamine (including Ecstasy*) in human urine within 4 (M-AMP) to 6 (THC) minutes at an accuracy level of 98% when used as instructed. The cutoff concentrations for this test are THC metabolite (THCA) at 50 ng/mL and Methamphetamine at 500 ng/ml. The sensitivity levels of this test are in conformance with the testing guidelines for this type of immunoassay established by the National Institute on Drug Abuse (NIDA) and the U.S. Department of Health and Human Services.
*While Methamphetamine tests will generally detect MDMA (Ecstasy), an MDMA specific test is recommended when screening specifically for MDMA or Ecstasy use.
Summary and Explanation of the Test
D9-Tetrahydrocannabinol (THC) is generally accepted to be the principle active component in marijuana and hashish, although other Cannabinoids are likely to contribute to their physiological activity also. THC is rapidly absorbed by inhalation or by the gastrointestinal tract, and is almost completely metabolized. Its predominant metabolite, 11-Nor-D9-THC-9-carboxylic Acid, or THCA, is found in the plasma, feces and urine along with other compounds. Very low concentrations of THC may be detected in urine during the initial several hours, but THCA persists in urine at a detectable concentration for many days after smoking or other ingestion.
Methamphetamine (M-AMP) Methamphetamine is a stimulant drug which is quickly metabolized to the major psychoactive compound amphetamine. It is used in pill form, or in powdered form by snorting or injecting. Crystallized methamphetamine is inhaled by smoking and is a considerably more powerful form of the drug. Some of the effects of methamphetamine use include: increased heart rate, wakefulness, physical activity and decreased appetite. Methamphetamine use can cause irreversible damage to the brain, producing strokes and convulsions, which can lead to death. Ecstasy, a new trendy and popular drug among teenagers is a refined and processed form of methamphetamine. The excretion half-life of Methamphetamine metabolized in urine, estimated by different techniques, ranges from three to five days.
Urine-based screening tests for drugs of abuse range from complex analytical procedures to simple immunoassay tests. The sensitivity and rapidity of the InstaCheck® 2 Panel Drug Screening Test has made this type of immunoassay the most accepted method of preliminary screening for drugs of abuse in urine.
Principles of the Procedure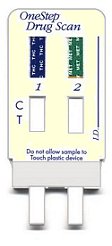 The InstaCheck® 2 Panel Drug Screening Test is a competitive immunoassay that is used to screen for the presence of drugs of abuse in urine. It is a chromatographic absorbent device in which drugs or drug metabolites in a sample compete with drug / protein conjugate immobilized on a porous membrane for a limited number of antibody /dye conjugate binding sites. The test device employs a unique combination of monoclonal and polyclonal antibodies to selectively identify drugs of abuse in urine with a high degree of confidence. In the procedure, the absorbent end of the test device is inserted into the urine sample. The urine is absorbed into the device by capillary action, mixes with the antibody/dye conjugate, and flows across the pre-coated membrane.

When sample drug levels are below the target cutoff sensitivity of the test, antibody/dye conjugate binds to the drug/protein conjugate immobilized in the Test Region (T) of the device. This produces a colored Test Band that, regardless of intensity, indicates a negative result. When sample drug levels are at or above the target cutoff, the free drug in the sample binds to the antibody/ dye conjugate, preventing the antibody/dye conjugate from binding to the drug/protein conjugate immobilized in the Test Region (T) of the device. This prevents the development of a distinct colored band, indicating a positive sample. In either case, a colored Control Band is produced in the Control Region (C). This band serves as a built-in quality control device that demonstrates antibody recognition and reactivity as well as confirmation that the test is complete.

REAGENTS AND MATERIALS SUPPLIED

InstaCheck® 2 Panel Drug Screening Test card with two (2) separate test regions for the targeted drugs, Marijuana and Methamphetamine. Each test region contains:
Monoclonal anti-drug antibody/colloidal gold conjugate in a protein matrix containing 0.1% sodium azide coated in the sample path.

Drug derivative/protein conjugate immobilized as a line in the test region.

Goat anti-mouse antibody immobilized as a line in the control region.

Sample transfer pipette, complete use instructions and technical background information.
Warnings & Precautions
For forensic diagnostic use only.

Urine samples have the potential to be infectious. Follow Universal Precautions for proper handling and disposal methods.

Do not use this test device beyond the expiration date stamped on the package.

Do not open the sealed test package until you are ready to start the testing procedure.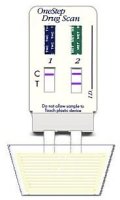 Testing Procedure
Read the enclosed instruction manual completely.

Do not open the sealed test pouch until just prior to sample testing.

Collect a fresh urine sample in a clean container preferably glass.

Check the expiration date and remove the test device from the sealed pouch. Do not use the test past its expiration date.

Remove the protective cap from the test device to expose the absorbent wicks.

Immerse the wicks into the sample, making sure that the urine level does not come in contact with the test device.
Observe sample lateral flow or migration across the test panels (15-20 seconds).
Read results within 3 to 7 minutes after sample migration. (The two test panels will not fully develop at the same time) Do not read result after 8 minutes. If the drug test is left standing for longer than 8 minutes, the intensity of the colored lines may change or for technical reasons, a faint line may appear that should not be interpreted.
Interpretation of Test Results
Negative THC/M-AMP

Positive THC

Positive M-AMP

Invalid

The above result indicates a negative test result for both Marijuana and Methamphetamine. The presence of a test line, no matter how faint, next to the labeled drug test area is a negative result. Note that the color or intensity of the lines may differ. This is normal.

The above result indicates a positive test for Marijuana and a negative test for

Methamphetamine. The absence of a line in the THC test area is a positive test result for that drug.
The above result indicates a positive test for Methamphetamine and a negative test for Marijuana. The absence of a line in the M-AMP test area is a positive test result for that drug.
The absence or lack of development of a control line is an invalid test result regardless of other test results. No interpretation of test results should be made.
The InstaCheck 2 Panel THC/M-AMP Drug Screening Test card is available in packs of 3, 6, 12, 24 and 100 test packs. Each test pack comes with complete instructions and expiration dates are in excess of one year. Tests may be stored at room temperature, no refrigeration is required.
| | | | |
| --- | --- | --- | --- |
| Description | Packaging | Sale Unit | |
NOTE: This test provides only a preliminary test result. A more specific alternative chemical method must be used in order to obtain a confirmed analytical result. Gas chromatography! mass spectrometry (GC/MS) has been established as the preferred confirmatory method by the Substance Abuse Mental Health Services Administration (SAMHSA). Clinical consideration and professional judgment should be applied to any drug of abuse test result, particularly when preliminary positive results are indicated. If confirmation of positive scans is required, we suggest the QuickScreen Pro At Home kit with Laboratory Confirmation of positive results.