Fertility Tracker®
Professional Model 100x Power Fertility Prediction Microscope

A professional clinical grade, 100x power optical microscope designed specifically for the clear and easiest identification of the fern patterns, or electrolyte crystals, present in human female saliva immediately preceding and during the ovulatory response. Provides accurate and individual fertility tracking and ovulation prediction using a saliva sample. The Fertility Tracker was adapted from similar portable instruments used in field studies of microorganisms and environmental microbiology. The unit features precision 100X power magnification optics, a fully illuminated slide platform, and laboratory grade sample slides.
Principle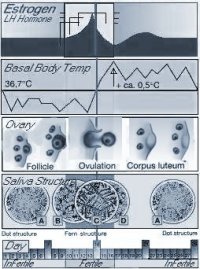 The female fertility period occurs once during the monthly menstrual cycle. The ovum (egg) matures in approximately the middle of the cycle, about 14 days prior to the onset of menstruation. The fertility period peaks for 2 to 3 days with an average total duration of 4 to 6 days, though this can vary depending on many biological and environmental factors. Calculation of this fertile period using non-clinical or traditional methods can be quite inaccurate, especially in the case of women with irregular cycles. For couples wanting children, or concerned with family planning, the results can be frustrating at best. Consequently, the use of forensic tests based on the specific biological and hormonal phenomena occurring naturally in the female body during this fertility period can be useful in helping to maximize the chances of successful fertilization and resultant pregnancy and conversely, help to minimize the possibility of an unwanted pregnancy. Obviously by abstaining from intercourse during this fertility period, the possibility of pregnancy is greatly reduced.Ovulation FAQ
Fortunately, specific biological changes in the female body can indicate fertile and infertile periods. Often used is the traditional curve of the basal body temperature. In the first half of the cycle, shortly after the beginning of the menstrual period, the basal temperature is low. After the egg is released, the temperature rises. While this method has been used for years, it requires accurate and specific record keeping and results are often disappointing. More specific is testing for the peaking of production the female LH hormone which is discussed fully under the Ovulation page. Additionally, just prior to ovulation, electrolytes (or salts) increase dramatically in body fluids (e.g.. cervical mucus and saliva) along with the hormone estrogen. Consequently, being able to identify this increase in electrolytes (salts) is an alternative method for identifying the onset of ovulation.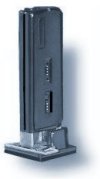 Ask the Expert
Woman's Day Magazine 9/1/03 pg 41
Q. Do those new Saliva-Based Ovulation Predictors work? Are they difficult to use?
A. According to preliminary data, they do seem to work as effectively as the conventional urine tests. The advantages are that they're less messy than urine kits and you can

use

them anywhere at any time. They are more expensive, about $60 a test kit compared to about $20 for the urine-based kits. But if you're tracking your cycle in an attempt to conceive, the newer test can be used multiple times for up to a year

or more

.
Laura Riley, M.D.


A

ssistant

P

rofessor of

O

bstetrics and

G

ynecology, Massachusetts General Hospital, Boston.
Historically, it has been clinically and scientifically observed that, during the fertile period, a sample of normal female saliva or cervical mucus when dried and examined under a microscope contains many structures resembling ferns. These fern structures are actually dried salt or electrolyte crystals present as a result of the electrolyte build up prior to and during ovulation. On all other days of the female cycle only shapeless, dotted structures can be seen. This natural phenomenon has been known for many years to researchers and medical professionals. History and scientific abstract. Saliva is the most accessible body fluid and easiest to obtain. There is no need for complicated blood or urine tests. "Fern" structuring starts 3-4 days before ovulation and ceases 2-3 after ovulation. The Fertility Tracker® microscope is a scientific instrument with a precision 100x power magnification lens that with proper care can be used over and over again. While not a pocket sized device, The Fertility Tracker® is small enough to provide excellent portability while still enabling the magnification power of a full scale laboratory microscope. Because samples are magnified 100 times or approximately twice the rate of pocket microscopes, the fern crystal pattern present in dried saliva samples becomes easier to visually identify and track.
See the Fertility Tracker® FAQ,
Using the fertility Tracker® Microscope
Test on arising

each morning, preferably at approximately the same time. Test prior to consuming any food or beverage including water.

Remove one clean sample slide from the case of six acrylic slides provided.

Place a spontaneously produced sample of saliva (or cervical mucus) on the slide. Licking the slide once usually produces an adequate sample amount. Putting too much or too little saliva on the slide will result in a poor reading. Simply make sure that the slide is covered but not saturated and no air bubbles are present.

Allow the sample slide to dry completely (5-10 minutes). This step is the most important part of the test procedure. Depending on humidity conditions, drying could take longer. A hair dryer can be used on the low setting to speed the drying time. Note: Once dried, the slide can be viewed anytime without effecting the accuracy of test results. There is no need to view results within a specified period of time.

Place the dried sample slide on the viewing platform and turn the microscope light source on using the thumb switch. Looking through the eyepiece, turn the focus adjustment wheel until details in the sample sharpen and come into focus. The resulting view will approximate the following:

Infertile Period
Clear

Fertile Period
Fern Structures

Six slides are supplied with the Fertility Tracker®. Sample slides may be saved and compared to subsequent test slides to better understand and identify the changes taking place preceding ovulation. After six tests have been compared, clean the slides thoroughly with water or a mild soap solution. Clean the slides in the same manner as you would your eyeglasses. An excellent cleanser is an enzymatic contact lens cleaner as this will remove any protein buildup on the slides.
The chart below moves left to right from menstruation through a typical female cycle. The views shown are actual examples of what may be seen at various times during the fertility cycle. Actual views may vary depending on slide and sample preparation, day chosen for testing, lighting and other factors. However these different view examples should prove useful in understanding what you are looking for in the way of fern patterns.
Least Fertile

Not Fertile

Fertile-Most Fertile

Not Fertile

Menstruation
3-7 Days
Dry
Days 0-3
Crystallization
Days 4-6 Days 7-9
Dry
Days 11-14
AVAILABILITY AND ORDERING
Each
Fertility Tracker® ovulation prediction system includes the following components:
• Fertility Tracker® 100x power precision optical microscope with high intensity light source (batteries included).
• Six (6) laboratory grade reusable acrylic slides, with protective slide case.
• Comprehensive 45 page information booklet covering female fertility and hormonal issues, methods and principles of fertility prediction and ovulation, frequently asked questions and step by step use instructions.
• Storage/carrying case.
Description
Sale Unit
Cost
Order

Fertility Tracker® Professional Fertility Microscope

One (1) Unit

$49.90

Three (3) Units

$135.00

Six (6) Units

$240.00

Twelve (12) Units

$420.00

*If the order buttons are absent or inoperable, please use the pricing overview page to order.
History and scientific abstract
*Important Note: The Fertility Tracker® Saliva Microscope does not predict ovulation but rather can be used as an effective aid in the detection of the fertility period (ovulation) during the female menstrual cycle through identification of increased system electrolytes normally preceding ovulation. No warranties or claims are made nor responsibility accepted for interpretation of test results and resultant outcomes.